Description
Edit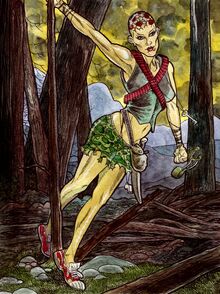 Don't let her Reaper-look scare you, she's everything but a Reaper. She has a thick southern accent and an extremely fit body to go along with it. Her favorite weapon is the slingshot she wears on her belt that is more deadly than it looks. She is permanently scarred by being forced to quiet a little girl named Eve. She was shown to have a slight interest in Morgan Mitchell at the end of the 4th book.
Riot was once called Sister Margaret before she left the reapers. She was wandering the Ruin when she met Jolt, a member of the Rat Pack. She hung around them for a while, then got hurt and was taken to Sanctuary. She started helping people by bringing them to Sanctuary, then leaving.
Ad blocker interference detected!
Wikia is a free-to-use site that makes money from advertising. We have a modified experience for viewers using ad blockers

Wikia is not accessible if you've made further modifications. Remove the custom ad blocker rule(s) and the page will load as expected.