Description
Edit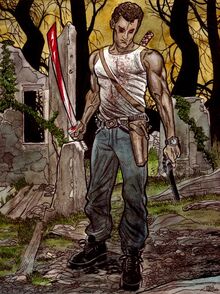 A terrifying man to look at up close, mystery swarms this man who once used to play baseball with the Philadelphia Phillies. He has red and orange eyes that scare away even the biggest of zombies and match his fiery red hair. He uses a katana like Tom Imura's, but is also very skilled with firearms.
Ad blocker interference detected!
Wikia is a free-to-use site that makes money from advertising. We have a modified experience for viewers using ad blockers

Wikia is not accessible if you've made further modifications. Remove the custom ad blocker rule(s) and the page will load as expected.